Eduaide.Ai Update: September 2023

We are happy to share Eduaide.Ai Version II.
This update overhauled the workspace, chat, and saved content. The following post is a brief overview of the changes with a description and rationale for each. For more information, check out the interactive walkthrough on our landing page, or stay tuned for a more in-depth look at our roadmap and principles for updating Eduaide.Ai
I. True Modularity
Change: Collapsible Card
Description: We replaced the single text editor that housed all generated content with discrete, collapsible cards.
Rationale: Before this update, the Eduaide workspace made use of a single text editor to service all generated content. However, after three to four consecutive generations, the workspace would get unruly with one document bleeding into the next—not knowing where your lesson seed ended and your jigsaw activity began. This created disorganization and was a friction point in the application. We solved this issue by introducing a card system in which each generation of content occurs in its own card that may be independently edited, copied, or remixed.
Change: Automatic Save
Description: With every card created, the generative text—the output—is automatically named and included in your "Saved Content."
Rationale: With the card system of managing multiple generations, the need for work to be stored intuitively so that users may freely revise, remix, copy, or collapse cards without fear of accidental loss.
All of your work can be managed in the Save Content folder.
Change: Suggested Pair
Description: Most generated content now includes "pairs" or suggested resources that may complement your existing work or expose you to instructional methods or techniques you had not previously considered.
Rationale: Foundational to an effective learning environment is the logical sequence of curriculum and instruction. By suggesting pairs of resources, we attempt to integrate evidence-based instructional practices in an AI-supported workflow.
---
II. Granular Control
Change: Account Preferences
Description: By opening settings, you can now specify your preferred output language, subject area, and grade level.
Rationale: This is an ease-of-access improvement. Users can more reliably generate aligned instructional resources by specifying their native language, as well as the grade and subject they teach.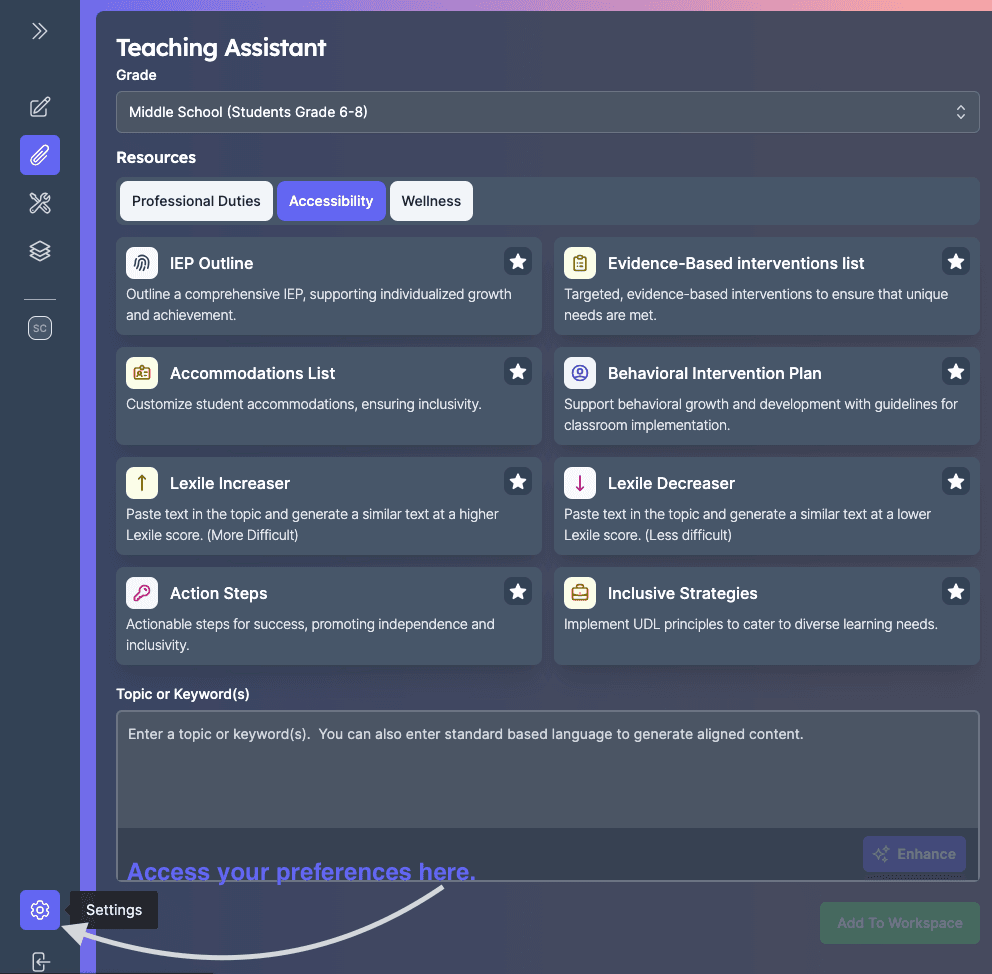 Change: Workspace-Integrated Chat
Description: Users can now access chat from anywhere on the application without having to leave their current work. Chat, in addition to being a standalone tool, is not integrated into every card so that users may more fluidly and flexibly fine-tune or follow up on generative outputs to best refine their work to meet the unique needs of their students.
All chat responses may be imported into an existing resource. For example, you might ask the Chat to reformat an Anchor Chart you created into a table. You could then insert that table into the workspace and further create materials using it.
Rationale: More manual control for users with more opportunities for collaboration rather than rote copying.
Change: Updated Standalone Chat
Description: Chat functional updates including a chat history where users may track previous responses and brainstorming sessions.
Rationale: Users should be able to record their ideas and come back to them for later reference and inspiration. Chat should not be limited to one-time exchanges that can not be built upon.
---
III. Saved Content
Changes: Assorted functional improvements including search, classification by resource type, aesthetic updates, and folder organization options by title and last modified.